Combining two favorites: Photography and Teaching!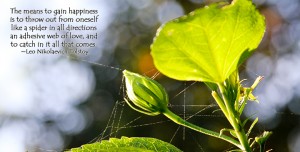 Yes, I love photography!  I got my first camera, a little 110 piece of junky plastic smaller than most cell phones today, when I was only 10.  I must have wasted tons of film trying to take photos that were far beyond the capability of that camera.  My parents became exasperated with me after paying for developing of photo after photo of blurry closeups of ants and grasshoppers, bright bushes, colorful trees, flowers and more flowers, every single pet many times over, and the occasional photo of younger sisters wearing magic marker mustaches. (I think those sister shots may be blackmail material now!)
The point is, I love photography, even if I'm not an expert at it.  I still love it.  In fact, the first "big" gift my husband gave me was a really nice camera that could actually be used for all the wonderful shots I longed to take.
After posting many of my shots on Facebook and even displaying some, with famous quotes added, in my classroom (the library), I've had friends ask if I would share some with them.  Of course, the next step only made sense:  Design for TPT and Teachers Notebook!
Here's my first creation.  It's also featured as one of my header photos on this site.
Download the file and you'll get a pdf (8.5 X 11) for easy printing on a standard ink jet or laser printer and a high resolution file that can easily be uploaded to your favorite photo site.  This file will print great as a 12X18, 20X30 or 24X36 poster.
It will make a wonderful critical thinking lesson as well!  Students will enjoy sharing what they think the quote means and how the photo goes along with the quote.
Visit TPT or Teachers Notebook for more information!