Ever After Movie Study Guide and more!
Get the Ever After Movie Study Guide! You'll love using this with your students. Included in this package are four great products for use with the movie "Ever After – A Cinderella Story", starring Drew Barrymore. PDF files AND Google Drive files are included!
You'll even find a link to my sample Google Classroom to view how assignments can be set up for your students as you view the classroom like your students would see it.
High school and middle grades language arts teachers have used this movie to help students practice important skills including interpretation, inference, recognizing cause/effect, predicting, and overall comprehension. It's also a wonderful way to introduce basic literary devices/terms, including protagonist, antagonist, conflict, theme, climax and foreshadowing.
The Ever After Movie Study Guide: Everything You Need!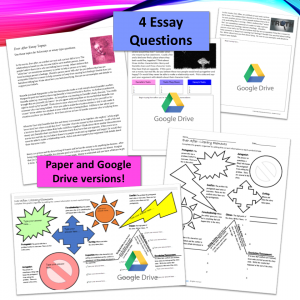 *The study guide includes 45 questions written to invoke thought and most require explanation.
Example 1: Danielle felt that Henry was arrogant. Define arrogant. List three examples of Henry's arrogance.
Example 2: Another minor villain who has evil intentions towards Danielle is a character named La Peau. Describe his character using 10 sensory words or details. Create a mind picture with your words.
A one page document is included if students need to use their own paper and an extended version is also included if it's preferred that students write directly on the hand-out.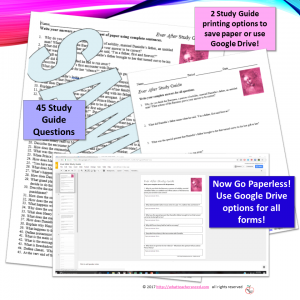 * Four essay topics are included
*Literary Elements Graphic Organizer
* A 50 question True/False test (3 different layouts in order to conserve paper)
*Answer Keys for the study guide and the test.
~~~~~~~~~~~~~~~~~~~~~~~~~~
Want to try Google Drive? This is a GREAT lesson to get you started. And my favorite part? The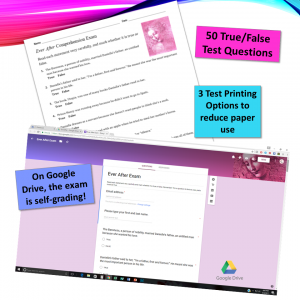 test is self-grading! What a time saver!
This product has been successfully field tested and both teachers and students love it!
Happy Teaching!