Ever Heard of Hop-Frog? It's one super-awesome Poe short story!
This story begins way back in the day, when I was only a few years older than my students.  I remember it was me who definitely held the title of "new kid" or as one veteran teacher put it, "You're fresh meat for the serving, honey!"
It was my third year of teaching and my first with eighth grade language arts.  I was excited and a bit intimated at the same time.  The good thing was I had taught seventh grade the previous year, so I knew most of my students and they were happy to see me again in eighth grade.  (I pictured myself misquoting Sally Fields, "They like me!  They REALLY like me!")  That was a definite ego boost for me and the first bright spot of that scary new year.
Another advantage I had that year was my location.  Even though I was teaching eighth graders, I had the first classroom on the sixth grade hallway, the oldest hallway in the school.  The eighth grade wing was new and so far out of this newbie's reach, it was comical to even dream about being there.  Yet, I did say advantage, didn't I?
Why did I consider it an advantage?  That hallway held the teaching gems of the school and they loved me, guided me and protected me just like I was one of their own. I became a better teacher because of my sixth grade mentors and I'll always look back on that time as one of the best times in my long career.  Oh yeah, there have been many, many more!
Now why did I tell you all of this?  One, because I can't get to the point without a story and two, the sixth grade teachers are the reason I taught Poe to my eighth graders in the first place.
You see, our "Icon of English Teachers," Mrs. Staples, had a unit she developed using some of Poe's stories.  She taught "The Raven" and had students memorize part of it.  You haven't really laughed hard until you've heard a hallway full of sixth graders chanting, "Nevermore!"  between class changes.   She had them read "The Cask of Amontillado" and of course, you can't teach Poe without adding, "The Tell-Tale Heart" in the mix.  The kids simply loved Poe.
October rolled around and my current eighth graders heard the "Nevermore!" calls from the sixth graders and the reminiscing began. Oh those kiddos loved them some Mrs. Staples and Edgar Allan Poe!
One afternoon I spoke with Mrs. Staples and told her all the sweet comments my kids had made about her and her Poe unit.  She was flattered and then she said something I was obviously too new (dumb) to consider, "Why don't you teach some of the other Poe stories?"
It was with this question and her blessing, I decided to add some of Edgar Allan Poe's stories to my teaching arsenal. She suggested to start the unit with a review/revisit of "The Tell-Tale Heart" and then add some stories they hadn't read. My first choice was Hop-Frog.
It was a great decision, especially for a newbie.  At first I read it to them, but over the years I looked for an audio file that I hoped they would find more interesting.  I ended up with three different ones, but none of them were really what I wanted.
Enter stage left: the amazing man I married (who is also a teacher.)  After being the voice at our school for all of our broadcasted school-wide reads, he said that making an audio file for Hop-Frog would be simple and easy.  After all, Hop-Frog is a wee bit short compared to "Peter and the Star-Catchers" our last school-wide read at the time.
With new audio file in hand and plenty of materials to go along with it, I claimed success!  Now thanks to TPT, you get to benefit from the years of making, tweaking, revising, and rethinking!
Take a look at the full package, the best deal for your money, or you can choose to download the individual pieces (vocab, comprehension, literary elements, audio file).  You can also click on the graphic above to go to the TPT site.
I hope you enjoy this unit as much as my kiddos and I have!
Happy Teaching,
Debra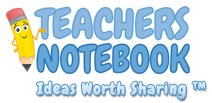 Now available on Teachers Notebook!  Click here now!